Green Stormwater Infrastructure (GSI)
Detroiters are using natural solutions to capture and filter excess rainwater to help reduce flooding and untreated combined sewage discharges into our rivers. The Detroit Stormwater Hub provides a place to share Green Stormwater Infrastructure projects, access resources and learn from one another.
Together, we're committed to making Detroit the greenest city in America!
Featured Project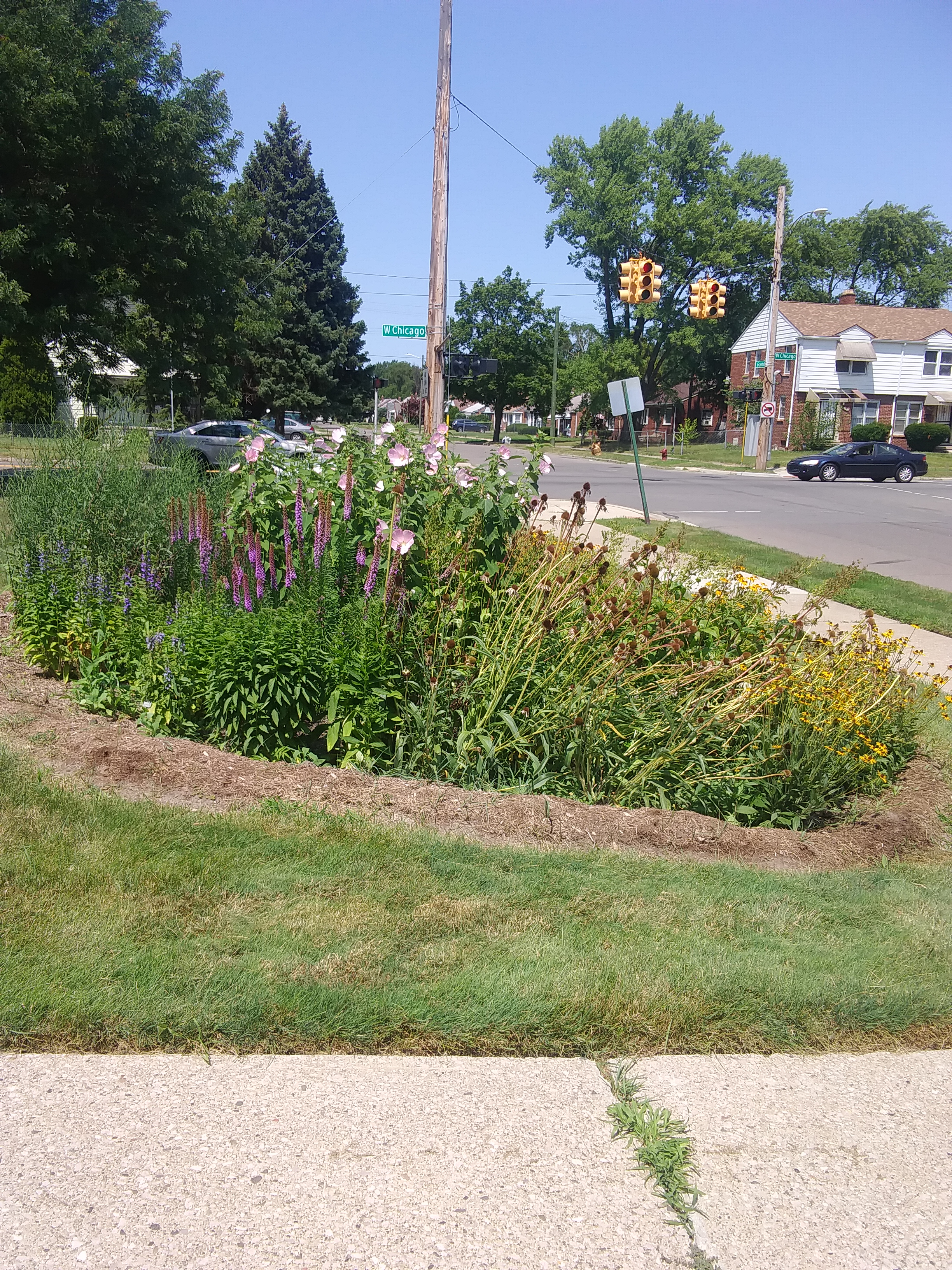 19321 CHICAGO
Drainage CreditNo
Public or PrivatePrivate
InstallerFriends of the Rouge, Sierra Club, St. Suzanne Cody Rouge Community Resource Center
GSI Resources
Looking for technical guidance, news stories or help with funding?
*This website includes public, private, and community GSI projects. As such, the metrics below are unofficial and may differ from officially reported NPDES permit metrics.
Have you completed a Green Stormwater Infrastructure Project?
Share Your Success
Put your project on the map and help chart the progress of GSI in Detroit!
Projects shared on Detroit Stormwater Hub provide local examples of GSI in action. This helps make all of our stormwater management work more visible, encourages our neighbors to install GSI of their own, and demonstrates the collective impact that residents, businesses, non-profits, and the city can have when we come together.
"We will continue to invest public dollars to improve stormwater management because not only does it mean less demand on our combined sewer system, it also means clean, blue rivers. We also support – through funding, credits, and technical advisement – our nonprofit partners and the community in building and maintaining green stormwater infrastructure projects. Together, we will make Detroit the greenest city in America."
"The Detroit Stormwater Hub showcases the social, economic, and environmental benefits of GSI as we work to reduce CSOs and improve water quality in the Detroit River and Great Lakes. We are pleased to partner on this city-community effort."
"As a life-long resident of Detroit, my vision is one of a vibrant and healthy community with nature all around. Green Stormwater Infrastructure's goal is to keep our rivers clean by reducing sewage overflows, but the practices are also wonderful examples of how to bring us closer to nature. I am grateful for the accomplishments by city government, businesses and organizations. I am most inspired and in awe of the projects and efforts by everyday people who care."